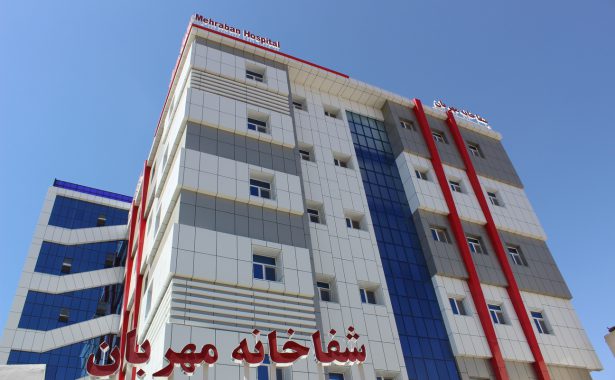 Mehraban Hospital has license No. 244 from the Ministry of Public Health and ISA No. D-03- 2613 which is located in Herat City, Martyre Mirvais Sadeq Boulevard (64 meters), Sadeq 30 and or Mehri Road, Mehri Heravi 23
Mehraban Hospital is the First Standard Private Hospital in the Western region Of Afghanistan.
Mehraban hospital has been constructed according the national and international standard.
The hospital has been able to satisfy the people in a short time by providing health service in 24 hours, 7 days of week. Aimed at expanding services and upgrading their facilities. The expansion project has emphasized the introduction of new diagnostic services and the raising of the quality of care to international standards.
Center of medical excellence
Our outpatient diagnostic and treatment center provide the highest standards of care at a number of easily accessible locations throughout the City of Herat and the west region of Afghanistan. Each center is equipped with the best medical technology and convenient facilities, providing the high-quality care.
Mehraban Curative Hospital
Mehraban Hospital is one of the Afghanistan's approved private hospitals, offering the best medical procedures, utilizing modern medical technology and equipment. We are able to offer rapid assessment, diagnosis and treatment with high clinical outcomes and a unique Intensive Care back-up.
Professional standards;
We are committed to the best standards of care across the hospital, which is supported by a comprehensive quality control. We work hard to ensure that our standards are met across all of Afghanistan's and international Hospital's outpatient and diagnostic centers.
Type of Health Services: We are providing OPD and IPD medical services
Curative Service:
✦ Invasive Cardiology: Angiography, Angioplasty and Pacemaker.
✦ Gastroenterology super specialty service including ERCP
✦ Super Specialty in Urology and Endo-urology
✦ Super Specialty of Orthopedic and Traumatology: beside all the routine orthopedic surgery Operations; total Hip replacement and total knee replacement and total Shoulder replacement including Arthroscopy service.
✦ Super Specialty of Ophthalmology
✦ Super Specialty of Neurology and Neurosurgery: Spine and Skull surgeries are doing by Super specialists.
✦ Internal Medicine Specialty: Cardiovascular, Respiratory, Gastrointestinal, Endocrinology, Hematology, Neurology and psychiatry.
✦ Specialty of Obstetrics and Gynecology, ANC, Delivery Services, PNC and Infertility.
✦ Pediatrics specialty: Neonatology, Cardiovascular, Respiratory, Gastrointestinal, Endocrinology, Hematology.
✦ General Surgery and Laparoscopy
✦ Thoracic surgery
✦ ENT (Ear Nasal and Throat)
✦ Stomatology maxilla-facial Surgery
✦ Psychology and psychiatric
✦Physiotherapy
Diagnostics Services:
✦ Laboratory: Hormonology, Hematology; Serology, Biochemical, Parasitology, Culture and Anti biogram.
✦ Radiology: Digital X. Ray, OPG, Portable X. Ray and dental X. ray (RVG).
✦ Ultrasound, Ultrasonography, Echocardiography and Doppler Ultrasound
✦ Gastro endoscopy upper and lower track
✦ ETT, TMT and Stress Test.
✦ Cystoscopy Urinary Track
✦ Electro Cardio Graph (ECG)
✦ Electroencephalogram (EEG)
✦ Eye Refraction and glass store unit
★ In addition emergency room, pharmacy and ambulance services in 24 hours/7 days week.
★ Restaurant is providing food and beverage for IPD patients, patient accompaniers and respective personnel.